Chums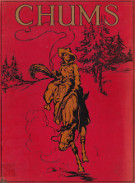 Chums was a weekly paper launched by Cassell in 1892. It was sold to Amalgamated Press in 1927 and ran until 1941.
There is more comprehensive treatment of the history of the magazine at Collecting Books and Magazines. My interest in Chums is that it published a number of serials and short stories by St John Pearce.
Here are some of the colour plates from the 1899, 1918, 1922 and 1926 annuals.