Henry Evison
George Henry Evison was born in Bootle on 25 November 1871 and died in London in 1928. He illustrated a great many children's books for George Harrap & Co., among others, and the third edition of The Ball of Fortune, for Blackie & Sons.
The following biography, with portrait, was printed in The Poster, April 1900.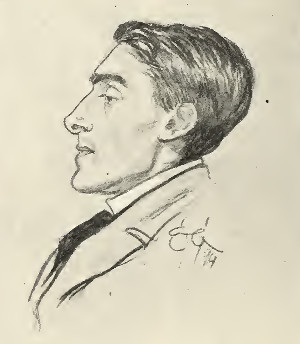 Mr. G. Henry Evison commenced his art career by serving five years' apprenticeship with a lithographic artist in Liverpool, and, during the same period, spending his evenings at the School of Art. At the end of this probation, he was not satisfied with the work and gave it up in favour of black and white, pure and simple. This he studied for two years, day and night, under Mr. John Finne at the Liverpool School of Art, and succeeded in winning a Scholarship for £60. In the meantime he had a few drawings accepted by the Editors of "Pick-Me-Up" and "Judy," and the success that attended his efforts induced him to come to London, where he joined the Slade School, and worked there for twelve months, at the same time still contributing to the weekly humorous papers. Other commissions quickly followed, and the artist illustrated two serials for "To-Day" under Mr. Barry Pain, and also worked for four of the Newnes', and four of the Pearson's publications, "The Idler," and other magazines. Although Mr. Evison has forsaken his first love and cast her from him, he still has a sneaking regard for the jaded mistress, as when he was tempted to design the cover design for The Poster this month, but still he believes if he sticks to black and white, he will ultimately astonish the gods and retire gracefully with a balance at his bankers.
Works
Here is an incomplete list of works that Evison illustrated, mostly culled from second-hand book sites:
George G. Harrap & Co.

,

1934

, frontispiece.
, Recent Heroes of Modern Adventure,

Blackie

.
, Phil's Cousins,

Humphrey Milford/OUP

,

1934

.
, The Great Book for Boys,

Harrap

,

1924

, one colour and four B&W plates.
, Adventures in Southern Seas – A Tale of the Sixteenth Century,

George Harrap & Co.

,

1928

, colour frontispiece and illustrations.
, Lawless Days: a tale of adventure in Old New Zealand and other South Seas,

George G. Harrap & Co.

,

1923

(2nd printing, 1928), four plates.
, Men of the Mist,

Aldine

, B&W illustrations throughout by Evison and others.
, The World of Sport and Adventure,

Epworth Press

, colour frontispiece and four plates.
, From Log-Cabin to White House: Life of James A. Garfield,

The Sheldon Press

,

1928

.
, The Secret Jungle,

George G. Harrap

,

1920

(2nd ed., 1923).
, Martin Crusoe: a boy's adventure on Wizard Island,
Various, The Lucky Boys' Budget,

Blackie & Son

.

The Epworth Press

,

1920

, illustrated throughout.
, Fights for Freedom – thrilling stories of heroic deeds in the Great War,

Charles H. Kelly

,

1913

, B&W illustrations.
, The Farrants: a story of struggle and victory,

The Epworth Press

,

1926

, colour frontispiece.
, The Island Mine: a tale of adventure in tropic seas,

George G. Harrap

,

1927

, colour frontispiece and four B&W illustrations.
, Rifle and Tomahawk: a stirring tale of the Te Kooti Rebellion,

David McKay

,

1920

, colour illustrations.
, The Adventures of Oliver Twist [The Newberry Classics],

George G. Harrap & Co.

,

1926

, colour and B&W plates.
, The Book of Discovery,

Frederick Warne & Co.

, In Quest of the Black Orchid,

W. A. Hammond

,

1910

, The Cany Folks o' Coal-Vale,